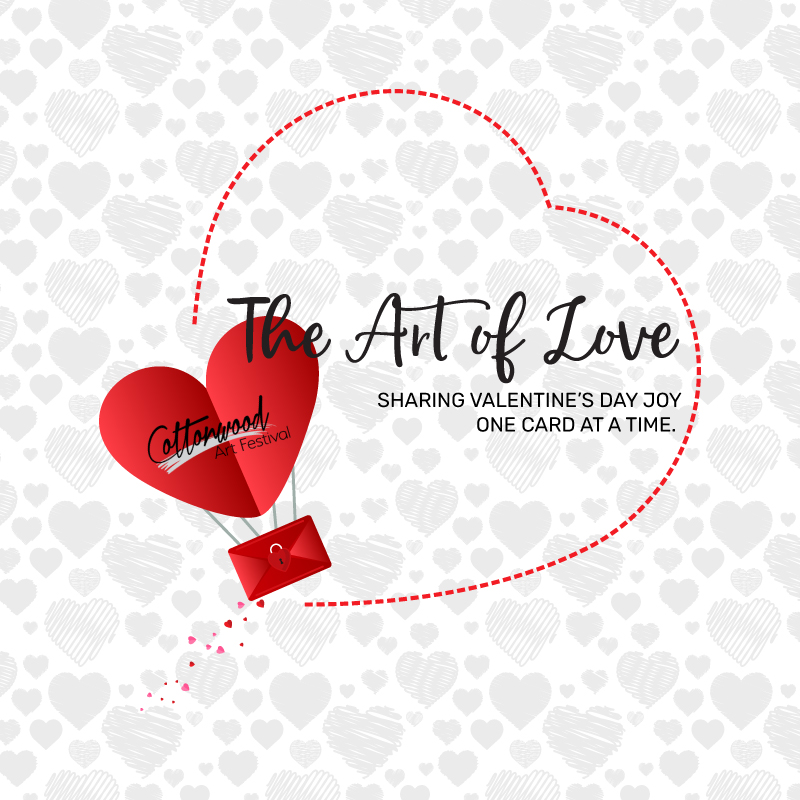 Join us in spreading Valentine's Day love to many of our local residents that are currently living in senior facilities and medical front line workers or staff. To bring a little joy to each of them, we are asking you to create Valentine's Day card(s) or special notes. The Cottonwood Art Festival staff's will collect and disperse them leading up to Valentine's Day.
How to Participate
Get your Art on and create a handmade card(s) using construction paper, stickers, ribbon, hot glue, etc., or purchase a store-bought card, which is just as special! Write a short message inside, draw a picture or share whatever inspires you. Something as simple as "I am thinking of you and sending love your way" or "Hello Friend! I am thinking of you today!"  will certainly bring a smile to someone on Valentine's Day. Blank envelopes are not needed for individual cards.
Where do I send my card(s)?
Once completed, mail your card(s) to the following address.  Multiple cards can be mailed in one envelope.
Cottonwood Art Festival
2100 E. Campbell Rd. Suite 100
Richardson, TX 75081
Or you can turn them into one of the following City of Richardson facilities:
Community Events – 2100 E. Campbell Rd. Suite 100, Richardson, TX 75081 (behind the Municipal Courts Building)
Heights Recreation Center – 711 W. Arapaho Road, Richardson, TX 75080
Huffhines Recreation Center – 200 N. Plano Rd., Richardson, TX 75081
Deadline to Participate
All card(s) must be received by Monday, February 7.  If you are mailing your card(s), please mail in time to be received by then.
For additional information contact Cottonwood at 972-744-4580 or cottonwood@cor.gov.